Lee Valley Regional Park Authority
The Lee Valley was once home to a diverse
range of industries, gravel pits, waterworks sites, distilleries and munitions factories. Over the years much of the land across the Valley became neglected and derelict.
Rescuing the Lee Valley from its years of neglect and regenerating it as a 'great playground for Londoners' was questionable before the Second World War. It was suggested in Sir Patrick Abercrombie's Greater London Plan in 1944 that 'the Valley gives the opportunity for a great piece of regenerative planning… ..every piece of land welded into a great regional reservation'.
During the early post-war period the idea lay dormant until in 1961 when Alderman Lou Sherman, Mayor of Hackney, took up the challenge to regenerate the Valley.
He inspired and persuaded seventeen otherlocal authorities to support him and in 1963 the Civic Trust was invited to undertake an appraisal of the Valley's potential as a vast leisure and recreational resource.  
The Civic Trust report was extremely positive and a Bill was promoted in Parliament to establish the Lee Valley Regional Park Authority as the development body with the responsibility and the powers to deliver the vision. Following Royal Assent to the Lee Valley Regional Park Bill in December 1966, the Lee Valley Regional Park Authority was formally constituted on 1 January 1967.
The Lee Valley Regional Park Authority (the Authority) is a statutory body responsible for managing and developing the 26 mile long, 10,000 acre linear Lee Valley Regional Park (Regional Park) - the only regional park serving London, Hertfordshire and Essex.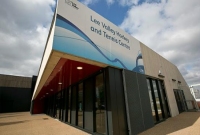 The Authority has a broad and dynamic remit with a duty to develop and preserve leisure, recreation, sport and nature throughout the Regional Park.  As part of this, the Authority is creating a zone of sporting excellence throughout the Regional Park which includes centres for athletics, horse riding, ice skating, sailing and golf.
As the owner of three London 2012 venues, the Authority is playing a leading role to deliver an enduring and sustainable legacy from the London 2012 Olympic and Paralympic Games. The 2012 venues are http://www.visitleevalley.org.uk/en/content/cms/london2012/velo-park/ which has the iconic Velodrome at its heart and is the finest cycling hub in the world; http://www.visitleevalley.org.uk/en/content/cms/london2012/lee-valley-hockey-tennis/with ten tennis courts (four indoor and six outdoor) and two of the finest hockey pitches in the country- both venues are located on Queen Elizabeth Olympic Park and  http://www.visitleevalley.org.uk/en/content/cms/london2012/lee-valley-white-water-centre/ at Waltham Cross, Hertfordshire, the first 2012 venue to open to the public after the Games and the first to open before them.